COSMO ROAD BLACK SIZE L XL 58-61CM
Stock Code:
ROAD-BLACK-LXL
Price:
NZD$249.00 Incl. GST
or 6 weekly, interest-free payments of $41.50
What's this?
Shipping Fees to be calculated upon checkout.
Pick-up available from Auckland on application.
*We will email you when your items are ready for pick up. To avoid disappointment, please do not try to pick up before then.

Designed to meet your needs

Cosmo Road
Materials:Recycled EPS foam, recycled PET straps
Closing: Fidlock® no-pinch magnetic system
Adjustments:A quick rotary system
Visor:Detachable
Inner lining: Detachable and washable foam
Ventilation slits: 19

Cosmo Ride
Powerful connected lighting: 80 lumens
Different lighting modes: Left and right turn signals / Position light / Warning light / Automatic brake light
Light sensor: effective during the day and at night
Adapts to your use: An adhesive base and attachments are provided so it can be easily attached without any tools to most helmets on the market
Autonomy: 8 hours with a rechargeable battery
Warn your friends and family or even the emergency services: Create emergency contacts (up to 3 guardian angels) to follow your routes and/or be notified if you fall
Fall detector: fall detection built right into the Cosmo Ride
Services available: Free mobile app for iOS and Android
Remote control: Rechargeable CR2032 battery (Li-MnO2)
Watertightness: Ultrasound welded. USB sport port with earplugs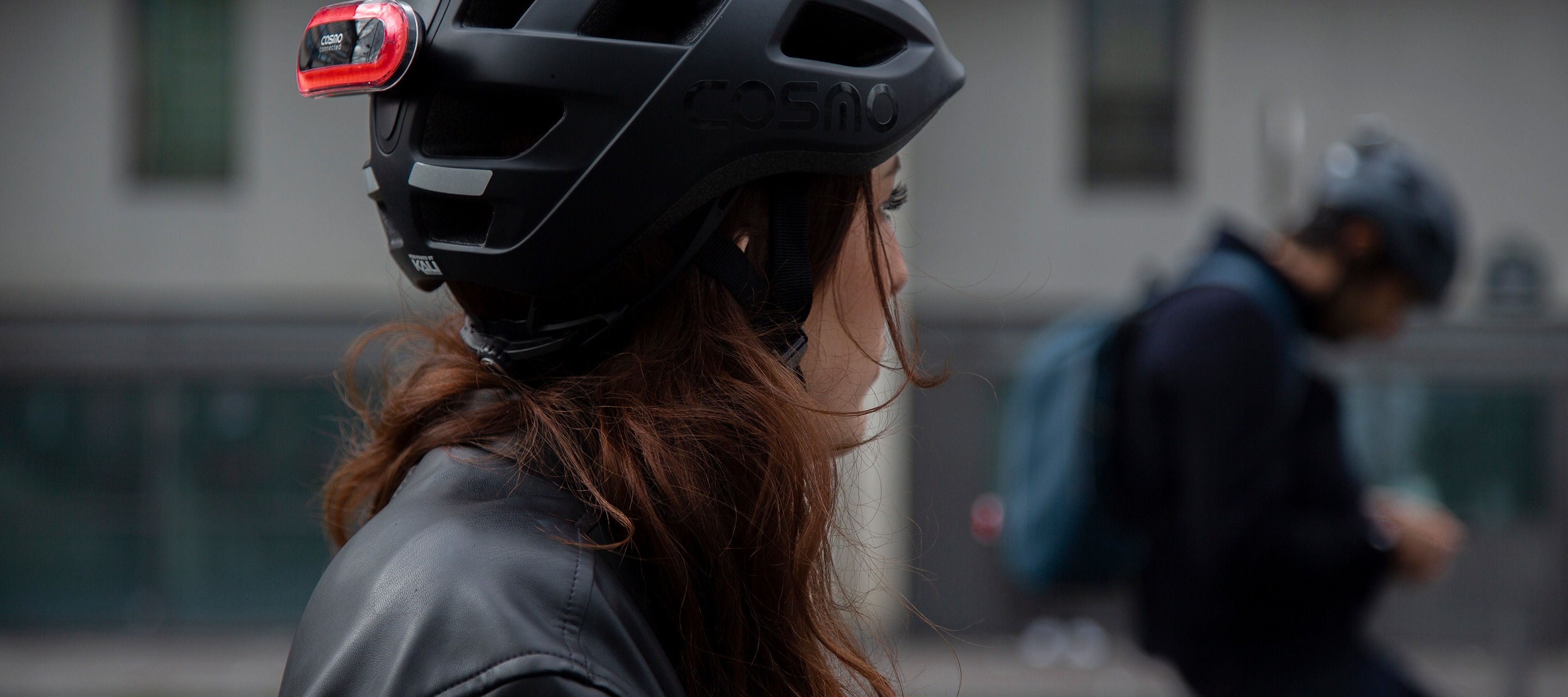 Cosmo Road

Adapts to your use

Resistant
In-mold technology, Optimal protection

Comfortable
19 vents, 2 rear reflective strips

Adjustable



A high position light on your Cosmo Road helmet

Bright and powerful
Equipped with right/left turn signals

Wireless remote control

Easy to attach

8-hour battery autonomy


Control your Cosmo Rides with your fingertips

Change the settings and control your Cosmo products with our app. Share your rides and have your friends and family notified if you have an accident along the way.
Specifications

Battery: 8 hrs (built-in and rechargeable)

Charging time: 2 hrs 40 min.

Charging port: Micro-B USB - micro-USB cable supplied

Technology: 3-axis accelerometer (detects speed changes)
3-axis gyrometer (measures angular speed)

Remote control: Rechargeable CR2032 battery (Li-MnO2)

Light intensity: 96 LEDs (48 red, 48 orange) up to 80 lumen

Watertightness: Ultrasound welded. USB sport port with earplugs

Conditions of use: 0° - 45°C

In the box:

Cosmo Road Helmet
Cosmo Ride
Remote control
Fixing attachments
Flexible attachments to fix the remote control to all types of handlebars
Micro-USB charging cable
User's guide